Appin Paintball – World Class Paintballing in Sydney
There are only a few centres throughout Australia that have received a 5-star rating from the Australian Paintball Association (AUPBA), however Appin Paintball is one of the elite centres that can boast about the achievement.
Receiving the great achievement of a 5-star rating puts the Delta Force Appin paintball centre in an elite class within the Australian paintball industry. The rating takes into account all facets of paintballing, from customer service and onsite facilities, to the most important area of all… safety.
Delta Force Paintball has made a huge investment into providing all of our customers with state-of-the-art equipment, ensuring your day of paintball action with us is the safest and most comfortable yet.
On your day out at Delta Force you will receive all of the essentials needed for battle… full-head protection goggles, a full-length combat suit, custom-designed body armour and a 400-capacity ammunition holder.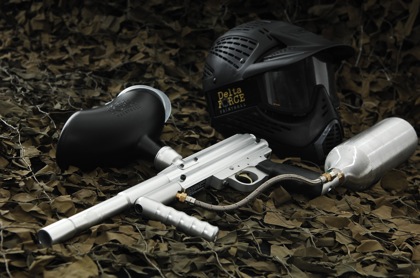 All of our equipment is well maintained and our highly trained marshals check all players' goggles before entering the fields. After an essential health and safety speech, all players will proceed through to the gun zone where you will collect your weapon for the day – a 0.68 calibre Inferno Paintball machine gun.
Delta Force Appin is located in the beautiful Australian bush near Campbelltown, south-west Sydney.
Be sure to take advantage of the natural environment. The landscape enables you to roam the fields unnoticed and provides you with a range of attacking options. Choose your strategy carefully as one wrong move could mean defeat for you and your team. Utilise the trenches and thick bush, along with the incredible movie-set props, to your advantage.
From special birthday occasions to youth groups, and corporate events to buck's/hen's parties, come and experience all that Delta Force Appin has to offer in terms of amazing game zones, impeccable safety standards and state-of-the-art facilities.
Attempt to capture the ancient idol from the giant pyramid, defeat the terrorists who are holding hostages on the London double-decker bus, and regain control of the prison from the dangerous inmates. You will experience all this plus more on your day out at Appin!
With the best game zones and equipment in the paintballing industry, you can't go past Delta Force Appin for the ultimate paintball adventure!
Related Paintball Centres