Full head protection goggle system
BODY ARMOUR – STATE OF THE ART MACHINE GUNS
Delta Force offers the very latest US-Spec Full Head Protection Goggle Systems to ensure the safety of all players. With our full head protection goggles your face and head are completely protected against the impact of paintballs – allowing you to enjoy your day in greater comfort and safety than ever before.
These well-ventilated goggles come complete with anti-fog lenses ensuring you'll always have perfect visibility in the heat of battle. Complete with the unique padded collar on the ninja suits, all players are completely protected from potentially dangerous and painful headshots.
Delta Force has invested heavily into this goggle system, which is by far the most important piece of paintball equipment. Most other paintball operators have not yet switched over to these safer and more comfortable goggles, and still use the old-fashioned goggles that provide no cover to the top and back of the head.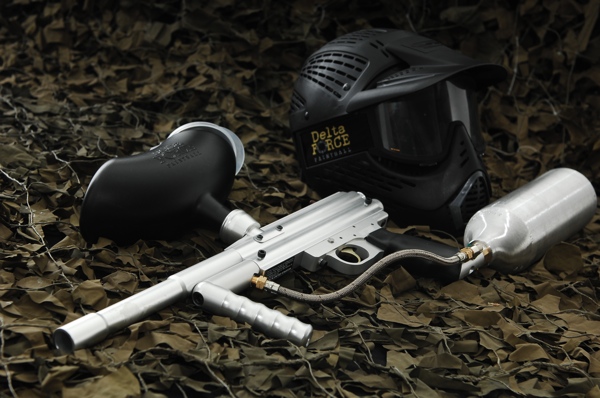 FAQ's on goggles:
Q: Why doesn't every paintball operator use these goggles?
A: They cost four times as much as the old-fashioned goggles; many small operators simply cannot afford to make the investment.
Q: Why are full head goggle systems particularly important for young players?
A: The goggles have a 'top' to them, meaning that the goggles cannot possibly 'slip-down' (with a lesser goggle system this is always a remote possibility amongst persons with smaller 'hat' sizes). The chinstrap equally prevents the goggles from being lifted accidentally.
Q: Aren't full head goggle systems going to make me hot?
A: The 'helmets' are made of hard plastic plates – each plate is fully articulated and equipped with the maximum possible number of ventilation ports. The goggles are no 'hotter' in use than the old fashioned versions.
Q: Do they steam-up?
A: The goggles are exceptionally well ventilated and factory-equipped with proprietary 'anti-fog' lenses. The goggles seldom 'steam-up' and if they do we have a demist solution available (free of charge) in the base camp.
Paintball body armour
Delta Force supplies the latest in custom-designed paintball body armour to all players entirely free of charge, allowing you to enjoy your day in complete comfort and safety.
Delta Force commissioned the design and manufacture of the body armour. The 'suit' comprises of multiple rigid plastic plates contained within a flexible skin. The protective plates and flexible skin are completely ventilated to avoid a build up of body heat.
This essential piece of new equipment now gives confidence to those who were too shy to previously play paintball. Play with confidence and comfort, play with Delta Force!
State of the art machine guns
All Delta Force centres stock the 0.68 calibre Inferno Machine Gun. The Inferno is a rapid, well-finished semi-automatic gun that allows all players to play with a paintball marker that gives serious accuracy and firepower.
Sculpted out of burnished metal, each gun is well maintained by our team of gunsmiths who are proud of their work, and proud to share these amazing firearms with you.
The Inferno Machine gun offers:
Unbelievable accuracy
Reliability during battle
Light-weight, easy to manoeuvre frame
Fast-firing action (up to 7 rounds per second!)
Comfort in design and;
A sleek and stylish finish