Birthday Paintball Parties
Visit Delta Force Paintball for a fun and entertaining day that will put a smile on everyone's face. It'll definitely be the most adventurous and talked about birthday party of the year.
Imagine you are hiding behind a giant stone sphinx, your teammates flanking to the left and right in support, and you spot the enemy hiding in the centre of the giant pyramid. You focus your aim, steady your paintball gun and fire to defeat the enemy and win the game!
This is just one battle scenario you can experience in a full day of paintball action with Delta Force. So grab your mates, make a booking and visit any of our centres throughout Australia for your shot at paintball heroism.
In over twenty years of operation Delta Force has hosted countless unforgettable birthday parties for people of all ages. Each week we ensure each and every birthday party is the ultimate paintball experience – from happy birthday wishes to a special game for the birthday boy or girl, a birthday with Delta Force is always an event to remember.
We have a proven track record of hosting successful birthday parties and you can rest assured that we'll look after you and your guests. Our incredible movie-set game zones and state-of-the-art equipment will have all attendees taking charge and living out their wildest 'cops and robbers' dreams.
All Delta Force centres are complete with picnic tables for you to enjoy your birthday lunch. The base camp will be your headquarters for the day where you can purchase additional paintballs, food and drinks. Here you can also relax in between games and share your war stories from the previous battle.
We even have a variety of invitations available to download to mark the special occasion and get everyone in the mood for some action-packed paintballing.
Click here to check the minimum age for paintballing in your state.
Call the Delta Force booking office today on 1300 850 744 to book your next birthday party.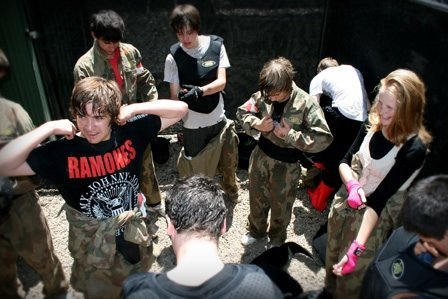 Related Paintball Centres